Heyho brushlickers out there,
there has a long time passed after my last writing, and I´m very sorry about this. But there were manymany things happening the last couple of weeks.
First I managed to finish a big comission from a helldorado-collector. I love the Helldorado-Minis :) The comissioner is quite happy about the results, and so I got 46, O.O yes, 46 more Helldorado Minis. As you can see
here
it´s lot of work lying on my table right now.
But before this comission I was finishing my first ever painted Sanguinor by GW. It was a TMM-comission for a Wh40000-Player. It should be in a better TableTopQuality. So not a special paintjob, but my first version of it. And for sure it wasn´t the last one ;)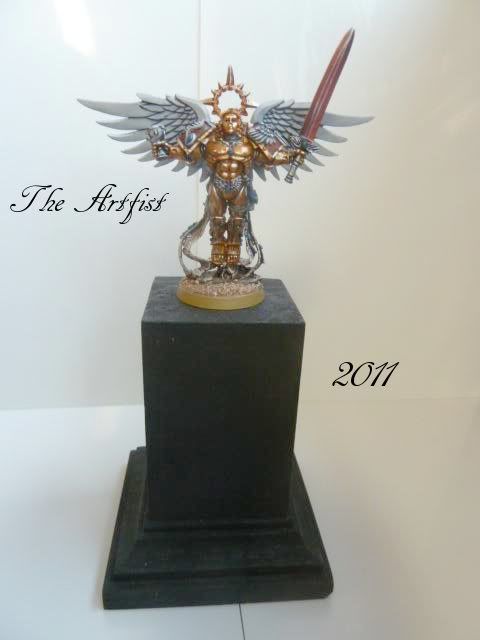 After a little postal mishap the Mini was arriving save at it´s new home, and the comissioner was also very happy about it :)
There were many more comissionworks, but this site would be to short to show them all. I´ll try to show some more in a few days :)
The biggest and most exciting happening of the last weeks was my first workshop. The weekend two weeks ago was full oif basing, 2K-Water and Nerds doing what they are known for...Having fun in creating.
From my site this was avery powerful and amazing event. Meeting many people, old friends and new ones. Showing people how I build my bases, and why I build my bases was very exciting for me, and I´ll do some more workshops for sure because it was so mus fun doing this. So I hope I´ll gonna see you there one day :D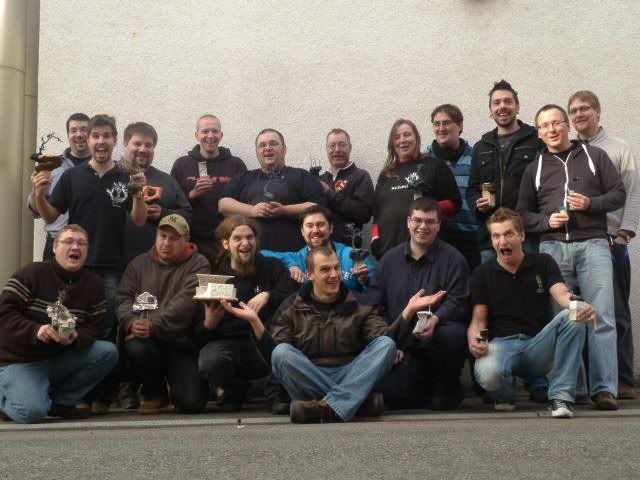 If you wanna see more pictures of these days, follow the links below. Feedback(German) can be found
here.
Schiraga´s Pics
vlado´s pics
sgt Absalon´s pics
CrazyWenky´s pics
SSBN´s pics
And another review of our good hobbyfriends at
DieVincis
So I hope you like the impressions and get some motivation for basing right now :D
At the end I want to show you my new signature for my 2012 projects, designed by me and my computer :P

So build bases, paint miniatures and be happy to have a hobby like this. Greets to all of you. Have a nice day
LG The Artfist